Customer Feedback
Never ones to blow our own trumpets, (well, not too much), here's some comments from some of the customers who have let us be a part of their special day.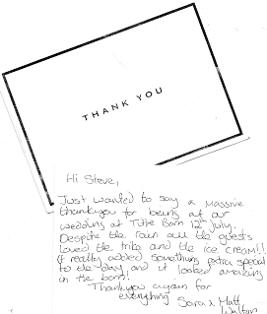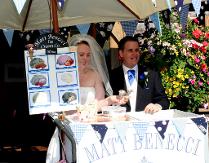 Hi
Just wanted to drop you a quick not to thank you so much for the ice cream bike at our wedding. Our guests loved the ice cream and thought it was a lovely touch (especially that it was so hot). It looked beautiful too and i love the blue bunting around the umbrella. Thank you for travelling the extra distance after taking on the extra work, it was very much appreciated.
Thank you again
Alex and Rob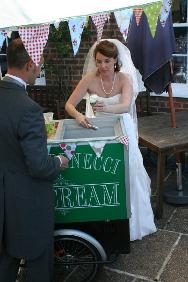 I just wanted to say a big thank you for your ice cream services on our wedding day - especially if you brought that gorgeous sun along as well :-). Everyone thought the ice cream was super cute and really made the day unique - I've heard that a few guests tried 2-3 different types making the most of the short reception period (as the bride was a bit late getting to the Church).
I'm pleased that you enjoyed going to a new venue - hopefully you had a chance to provide your details to our wedding planner as she organises functions for a number of locations in the area and it really was a big hit!
All the best, Tara
Master Builders Hotel July 2012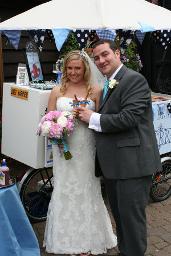 Hi Steve
Thank you so much for yesterday, our guests loved the ice cream bike, it was a real highlight! It was wonderful that the sun finally came out for a change and we were able to enjoy it all as planned... The rest of our day was amazing too :)
Thanks again,
Laura & Grant
Cooling Castle Barn June 2012
Hi Steve,
It was brilliant. Thanks Sooo much, we truly enjoyed every minute. Everyone commented on how brilliant your ice cream bike was and how lovely the ice cream tasted! The bike looked fantastic too and the bunting amazing. We really do appreciate all the hard work you did. Thanks so much.
Daniela and Sean.
Tithe Barn Petersfield June 15th 2012
Hi Steve,
Great to hear from you, sorry for the delay in getting back to you.
We've just returned from a wonderful honeymoon in Italy and now back to work, trying to catch-up!
It was great seeing you at the wedding and I'm sorry I couldn't spend more time with you, was just a whirlwind of a day!!
Everyone loved the ice cream in particular Zack my stepson – who I remember shouting to me from the lower terrace… FREE ICE CREAM!
Thanks once again Steve, hope to use you again soon for another requirement,
All the best,
Ben
Eastnor Castle
Hi Steve,
Thank you for your service on the day and your kind wishes. We absolutely had a lovely day and many commented that the ice-creams are yummy! Thank you so much!!
Best wishes,
Kim and Sofiane
June 2nd 2012 The Mill House Swallowfield
Thank you.
The ice cream went down very well and the bike looked amazing, especially the pink bunting! We managed to get the ice cream done before it started pouring so it all worked out very well. We will definitely recommend you!
Thanks again,
Katherine
June 2nd Upper Parsonage Farm
Hi Steve thank you so much everyone loved it and it worked so well in the sunshine you were great we had the most amazing day I'll forward any good photos thanks again
Elissa and Luke xxxx
Buxted Park May 25th 2012
Hi Steve,
thanks for your message!
What a wonderful reaction to your ice cream cart. Everyone was discussing flavours and who had what. The cart looked perfect and was totally in keeping with the theme.
Thank you again for such a lovely addition to the wedding.
Lots of love Mrs. JW Norfolk xxx
"Thanks Steve - wicked ice cream - all guests loved it! Alex - the restaurant manager likewise impressed - so you may get some additional business there. A lot of the young ones are proposing future nuptials so have passed on your details. Thanks again for making George & Nick's day special. They loved your ice cream bike.
All the best Roy
"Thank you for the fun and yummy ice-cream at our wedding! It was such a great touch and our guests loved it. Me and James also loved our special bride and groom cone - I just wished I had had the room for one of each flavour! :-)"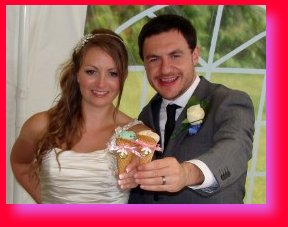 Eloise & James. Picture courtesy of Cotton Candy Weddings
Hi Steve
We loved having you and the bike at the wedding, and the guests certainly enjoyed the ice cream! We will definitely recommend Matt Benecci trikes to anyone looking for something different for an event.

Kind regards,
Christine.

Christine & Sacha from St Julians Club Kent
Thank you for being a part of the wedding of Anita and Carl, all the guests appreciated the lovely ice creams and thought the whole experience an unusual but lovely idea that was enjoyed by young and old alike, I would definitely recommend your services to anyone wanting something a bit different for any occasion. Thanks again,
Dawn
Mother of the Bride. Alverstoke Gosport June 2012
Hi Steve
We're just back from a fantastic honeymoon and have just seen your email.
Thank you so so much to yourself and Sharon for being part of our day - we loved the ice cream bike and the ice creams and all the guests haven't stopped talking about it.
I'm glad Emma was able to help you with the early set up so you could multi task.
Thanks again for everything - you've been a joy to deal with
Take Care
Sam and Sam
xx
Hello,
Thank-you so much for all your hard work!
The Guests loved the ice cream! we just got back from honeymoon last night and already we are hearing that it was such a lovely touch to the wedding!
I really appreciate you staying a bit longer as the speeches over ran, but honestly thank-you so much, the ice cream bike was stunning and i will recommend you to anyone, and I would love to book you again for the next big family event! (whatever it might be lol)

Thanks again
Lucinda and Adam xx
Hi Steve! Thank you so much. Ice cream went down a storm people haven't stopped messaging us about the amazing ice cream.......
Kind regards Mr & Mrs R x
Lovely Blog from Sarah at My Wedding Ideas

Terrific article on RockN'Roll Bride Of Clare & Pauls May wedding
"Hi there, the weather was fantastic. Thank you as well for serving such delicious and wonderful ice cream, everyone enjoyed it very much and commented wonderfully on your service and ice cream. The rest of the evening went perfectly thank you."
Holly & Mike
Hi,
Thank you very much for the email - I was just going to send you one! Thanks very much for doing such a good job at our anniversary party on Saturday. Everyone thoroughly enjoyed the ice cream, it was the highlight of the afternoon - for people of all ages! I'll definitely be recommending you at every opportunity!
I hope the wedding you went on to went OK and enjoy the rest of the summer.
Hi Steve
I am sorry that I have not emailed back sooner- We have just got back from our honeymoon!
I just wanted to say a massive thank you- the ice creams were greatly appreciated by all and we loved the Ice Cream Trike!
We will be sure to recommend you to everyone we know! Thanks also for the photo- it is great, we had such a lovely evening.

Many Thanks
Charlotte and Ryan x
Dear Steve,

Please could you send me your postal address? I would like to send you a thank you card for your efforts on the 16th July at Hamptworth Lodge for our wedding.

May I say now - the service was outstanding and we really where very impressed. I have also attached some photo's of us with the ice cream trike as I know that you were keen to get some for your website!

Enjoy the pictures,

Best Wishes

Tracie