With all these yummy flavours to choose from, which flavour is your favourite?
Very Vanilla (made with Madagascan vanilla)
Strawberries in Clotted Cream
Chocoholic Heaven
Mint Choc Chip

White Chocolate with Honeycomb Crunch
Blackberry Beauty
Toffee Fudge Fiasco
Rum and Raisins
Honey and Stem Ginger
Heavenly Honeycomb
Caribbean Coconut
Cointreau and Orange
Diabetic Vanilla
Cookies and Cream
Raspberry Ripple with Pavlova
Sorbets:
Fresh Lemon
Luscious Mango

Champagne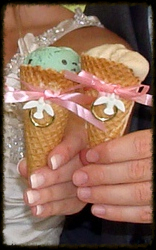 All of our scoop ice creams are suitable for vegetarians but obviously due to the dairy content not for vegans, however, there are no dairy ingredients in any of our sorbets, the creamy texture is due to the high fruit puree content. If any flavour you have chosen is out of stock for any reason we will bring the nearest suitable replacement flavours along with us on the day.
          An allergens list is available. If you have any further enquiries please email us.




Matt Benecci Ice Cream Company is a registered Trade Mark.