Eye catching "LOVE" letters for hire for your Wedding or engagement party...
How do you show someone how much you love them? With our Giant Illuminated LOVE LETTERS of course! Standing very proud at 4 foot, complete with stunning lights, these amazing Love letters are for hire for weddings, anniversaries, engagements and parties. You could even hire them just to let someone know how you feel.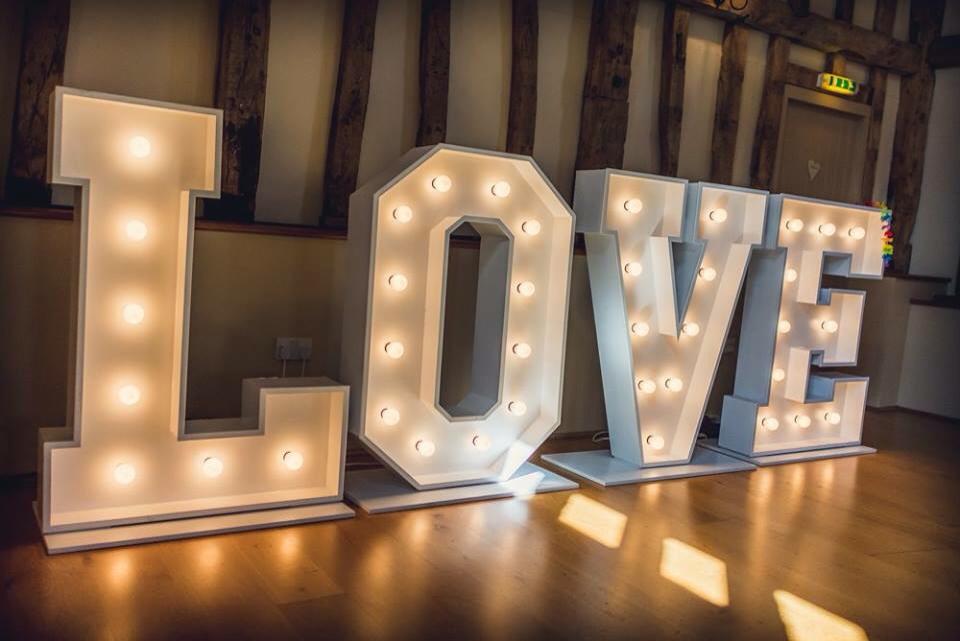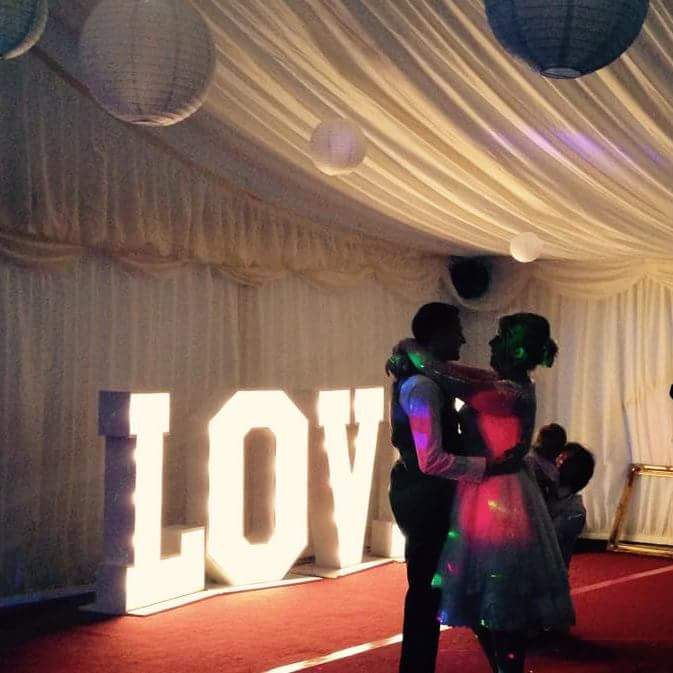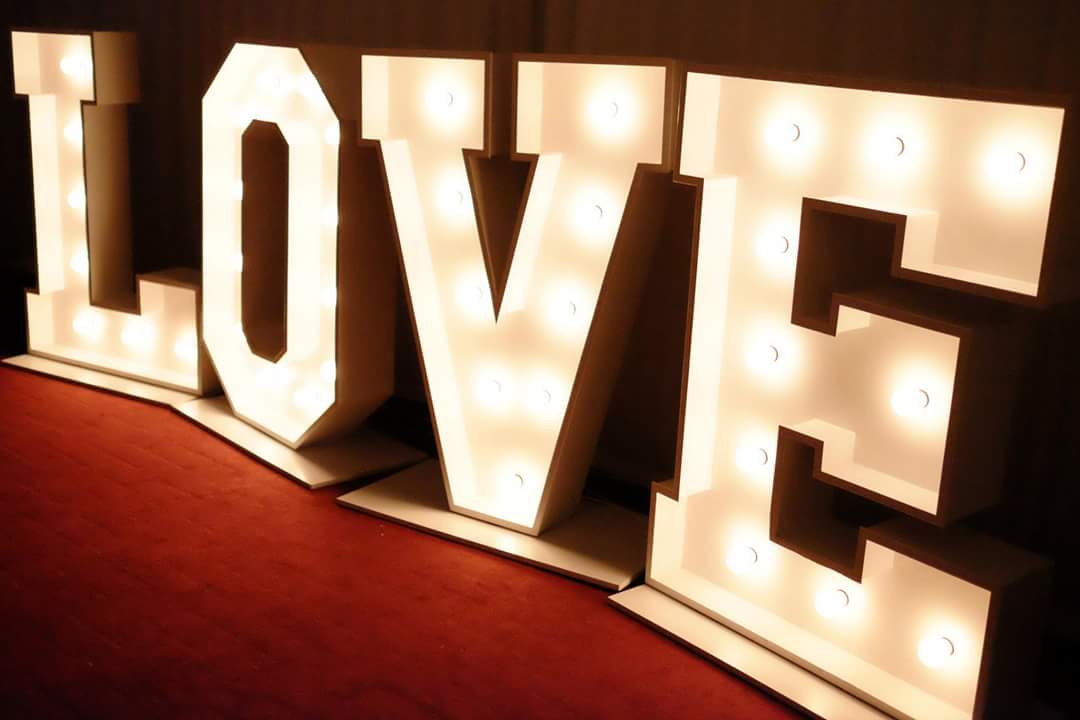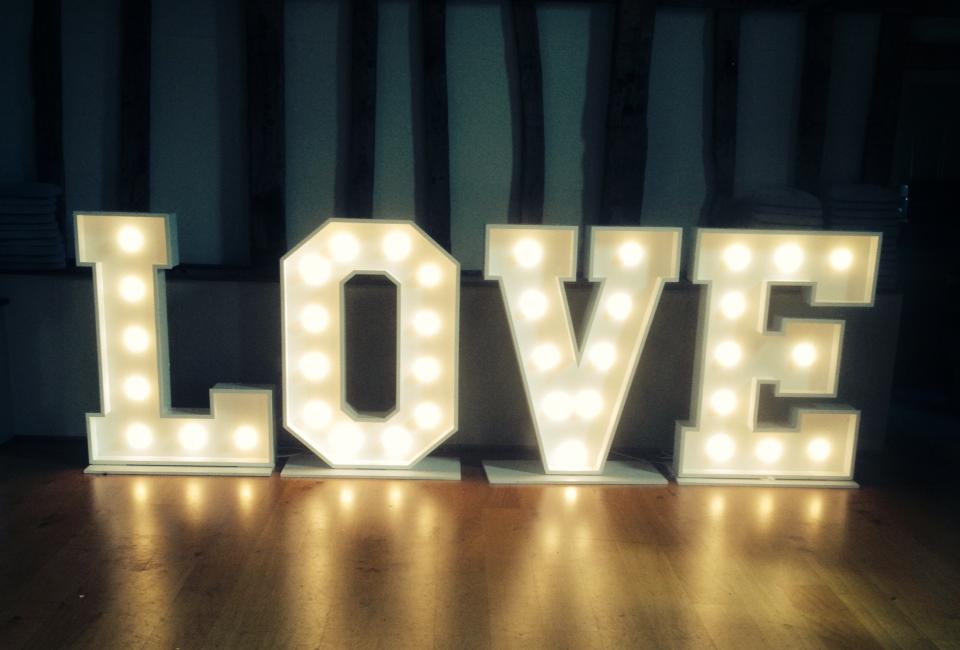 Giant illuminated LOVE Letters are the latest most fashionable item for weddings and engagement partys. Our bespoke handcrafted 4ft high illuminated LOVE letters really give your event that extra special touch.
These are a fantastic addition to your decor and a great finishing touch to your wedding theme. There are so many places they could be positioned at your wedding- Behind the main table, next to the cake, in the entrance hall or of course on the dance floor to really provide a stunning backdrop. They are also perfect for posing with for your photos and what's more, your guests will 'LOVE' them.
These professional custom made letters stand 4ft or 1.2m tall, with a stunning white gloss finish. Warm glow lights, they really do give off that vintage feel. Each letter has an indivdual plug so they needed be placed all in the same place.. If you wanted you could have one letter in each corner of the room or marquee? The choice is yours!
The Giant LOVE LETTERS are extremely sturdy, we can fix them to base plates so they will not fall over like other inferior types.
They also come fully PAT tested.
The LOVE letters are an ideal way to brighten up the entrance to your venue and welcome your guests, or why not position them in the main room at your wedding reception, creating an eye catching display next to the dance floor? In fact they look great wherever you might want to position them.
Contact us today for the most competitive quote and to check availability
SOME IMPORTANT STUFF...
All our Giant Love Letter Sets require a £50.00 deposit to secure any booking. The balance is then due no later than 14 days before your event.
YOU MUST ensure you have enough room in your venue for your chosen product. We will not be held responsible or offer a refund if your letter set does not fit. We will deliver when instructed (anytime after 9am) and collect shortly after midnight or following morning. CHILDREN SHOULD NOT BE LEFT ALONE OR ALOUD TO PLAY WITH THE LETTERS, they are big and heavy. Matt Benecci icecream or Essex giant love letters except no responsability for any injury caused by the miss use of our Love Letters. All of these products are for indoor use only.